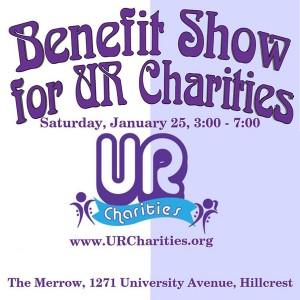 Jon Savage Gallery will be attending a special event here in San Diego that UR Charities will be hosting on Janurary 25th, 2014.
ART AND LIVE MUSIC COMING TOGETHER FOR A GREAT CAUSE
This is such a special event. UR Charities, Inc. is walking the talk, so to speak. Two of the artists displaying their art at this event have special needs. One is Deaf and the other has cerebral palsy. Their art will be for sale, so please come out and support them and us.
WHEN: Saturday, January 25, 2014 from 3:00 to 7:00 p.m.
WHERE: The Merrow, 1271 University Avenue, San Diego [Click here for direction]
Lynda West, is the founder of UR Charities Inc, found us through a mutual friend and invited us to attend to this special event. UR Charities is a nonprofit charity that helps kids and adults who are disabled and supports them by providing them services they need, such as closed captioning, sign language interpreting for Deaf people, seeing eye dogs for people who are blind, tutoring and other resources for people who have autism, down syndrome, Asperger syndrome. http://urcharities.org/
Jon Savage Gallery will be displaying and selling artwork at the event. Please do spread the word to friends & families to come and support us.
Cheers,
Jon Savage Gallery Team