Tag Archive for community
More info about CAD (California Association of the Deaf) [Click Here]
Video produced by Lenois Productions
The short film got selected for Lavender Carpet Film Festival!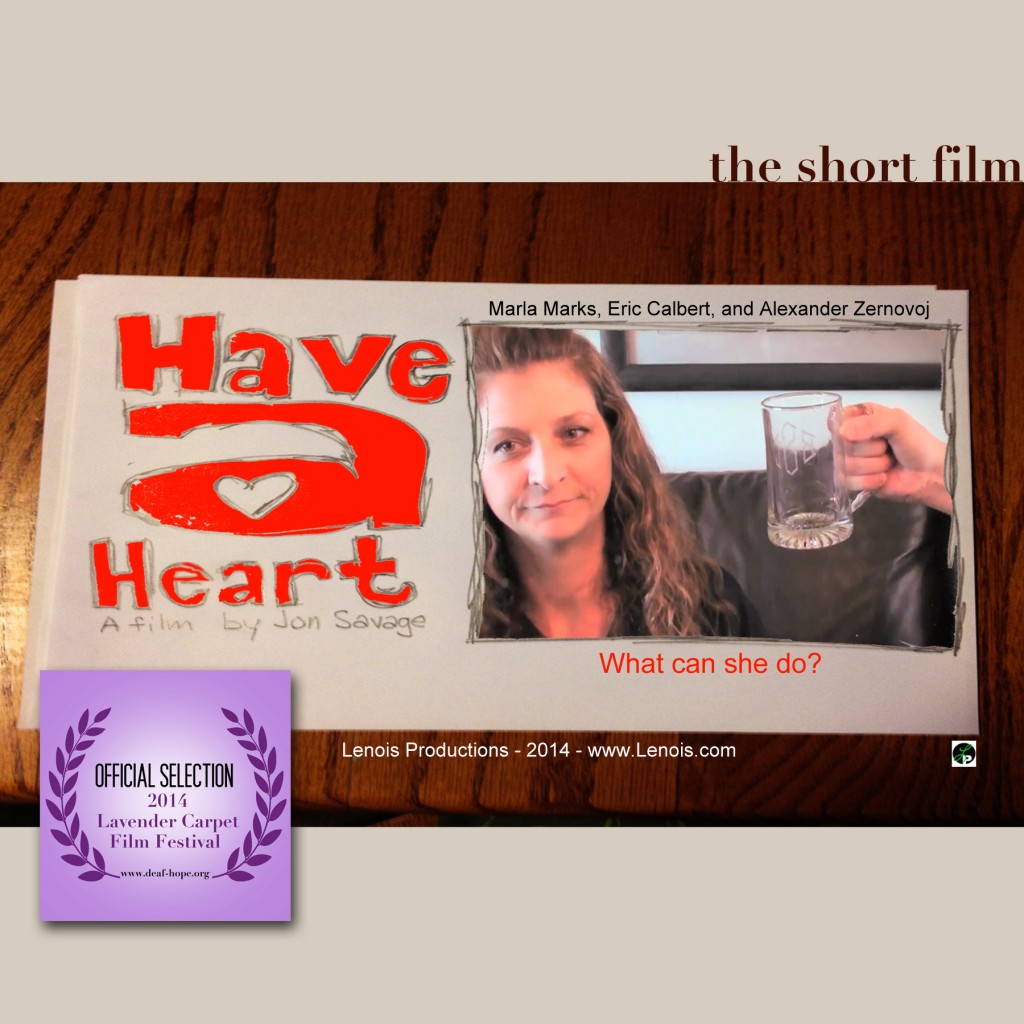 What's Lavender Carpet Film Festival?
DeafHope is excited to launch a new idea for our annual Glimmer of Hope event which will take place on February 22, 2014. We are going Hollywood in the form of a film festival! The theme is "Lavender Carpet Film Festival 2014: Lights, Camera, Activism!" featuring a series of community-based Public Service Announcements (PSA). Join us for delicious appetizers served throughout the evening, good friends and inspiring conversation about how we can change our community.
DeafHope is inviting filmmakers across the nation and around the world to submit short feature films, documentaries, film shorts, animation, and experimental works. Accepted films produced by Domestic Violence/Sexual Violence agencies and community allies will be eligible for category-specific Audience's Choice Awards.
___________________________________
"Have a heart"
Written by Holly & Jon Savage
Director, video and edited by Jon Savage
lighting grip – Brad Cohen
Cast:
Husband – Eric Calbert
Wife – Marla Marks
Heart Man – Alexander Zernovoj
To learn more about how to give your Deaf child the gift of ASL, contact our Early Intervention Educational Consultant, Laura T. Petersen at 510-344-6191 vp 510-794-3751 v Email: ltpetersen@csdf-cde.ca.gov
The PSA is created by California School for the Deaf's Outreach team, JAC Cook and Julie Rems-Smario, and a Deaf video producer/editor, Jon Savage.
California School for the Deaf
39350 Gallaudet Drive
Fremont, CA 94538

Transcript from ASL to English:

7240
Hello! Welcome to 7240 Vlog! Here's the update information on 7240. We would like to thank all the deaf artists who submitted their applications for the 7240 event and we did enjoy viewing their artwork. When you come to our event which is between December 18th to 20th, 2012, you all will enjoy to view their artwork including mine! The next discussion is the location which is Space 4 Art.

SPACE 4 ART
That place, Space 4 Art has their own mission statement which is they inspire each other, they are creative thinkers, they involve with the community, they believe in cultural diversity, and empowerment. Those values do fit with 7240's theory.

Kickstarter
Lastly, Kickstarter! The sign for Kickstarter is ( see the video ). The website for Kickstarter is great for people who have projects in varied fields who need help with support to exceed their goals. 7240 decided to go ahead with the Kickstarter. We have backers like you, who support the project by setting up funds with each pledge. The funds that backers place for their pledges won't be charged right away; only when the funding goal will meet then they will be charged. If the goal does not exceed, then the backers won't be getting what they pledge for. If the goal does exceed, two things that 7240 will get or do which are send thank you postcards and artwork what the backers pledge for to them and will be able to get the funds to provide the services that we need for 7240 event. Importantly, 7240 event will stay on with and without Kickstarter.
We thank for your support in 7240 and they do make a difference for the future!! Thank you for watching this vlog.

Transcript from ASL to English:
Inspired! Hello! Welcome to 7240 Vlog. Did you see those? Hopefully those do inspire you! I would like to grab the opportunity to explain what inspiration I can do for you in your own home. I can give you some different ideas.
– You see the VW bus? It could be your favorite car or your pet that you could hang up in your home.
– Love. Love is a positive inspiration. If you have any word that does inspire you greatly, I can make the word into a sign and become an art itself. You will see art that will make you feel good forever. That's an idea.
– Chuck Baird; famous artist. If you have any family from past generation or old pictures of your family members that you would like to convert to art.
– Lastly, we pick one of our backers from Kickstarter to paint this one. It could be your children or family. That's an idea.
Have you thought about picking out something that it would make you excited and inspired? If so, please support 7240 Gallery with your contributions. Kickstarter won't meet the goal if we don't have your support. The clock is ticking and we have until Dec. 10th. If you have any questions, I'm happy to correspond with you through email. Thank you for watching this vlog.
Kickstarter http://kickstarter.com/projects/jonsavagegallery/jon-savages-7240

(No Transcript at this time)
Jon Savage's personal vlog about experience of 7240.

This project will only be funded if at least $3,500 is pledged by Monday Dec. 10, 1:36pm PST. Support me and Deaf artists at http://bit.ly/Kickstarter-7240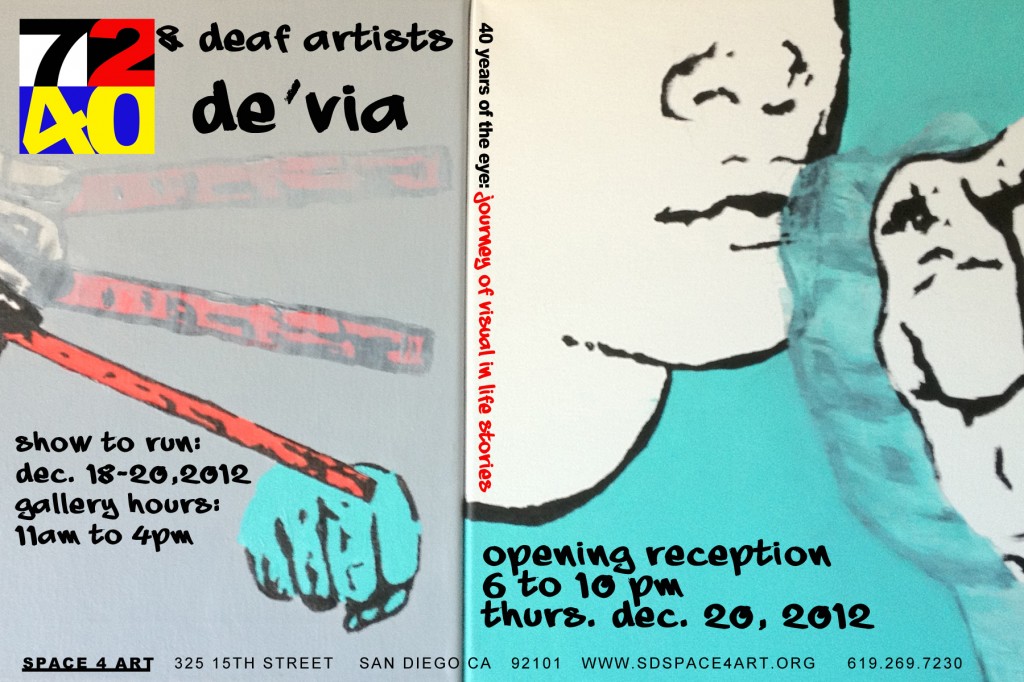 More info about the gallery (December 18-20, 2012) at:
http://facebook.com/jonsavageartist
http://jonsavagegallery.com

After passion, meeting and talking about have an art gallery through Kickstarter I put my dream out there to the world 3 weeks ago and have been stoked every moment since.
You can see the project right here:
http://www.kickstarter.com/projects/jonsavagegallery/jon-savages-7240
Or check out more artworks at www.jonsavagegallery.com
THANK YOU! This is going to be a stoked 60 days.